I posted
here
about using Shutterfly for your Christmas cards this year. I didn't get around to taking the kiddos photos until 2 days before Christmas, so my family will be sending out New Year's cards, but the card I created is just darling. I had to share. The kids' photo is perfect for the sentiment of this card.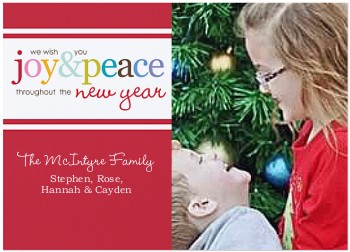 Joy & Peace New Year's Card
It is my prayer that you all have a wonderful Christmas and a fantastic New Year. Thank you for all your love, support, and prayers!